Discover more from The Letts Journal
Talking straight about business, climate and life for progressive thinkers and innovative leaders.
Leadership Vacuum (Dyson?) in UK Politics!
Rish! and Keir remind us what we're made of - Hoover style!
Hi. Im Rish! I'm super smart, you know like Elon or ChatGPT, and I'm your new Prime Minister. I really wanted it and I got it because well because that's how life works - right? (wing).
---
I'm an upwardly mobile forward thinking boy scout. Of course, socially I'm a bit of an ass. I mean at Oxbridge I was in a film version of 'Made in Chelsea' where I was filmed as a teeny bit of a callow youth reveling in how rich and super my social set was - sigh, bit of an ass.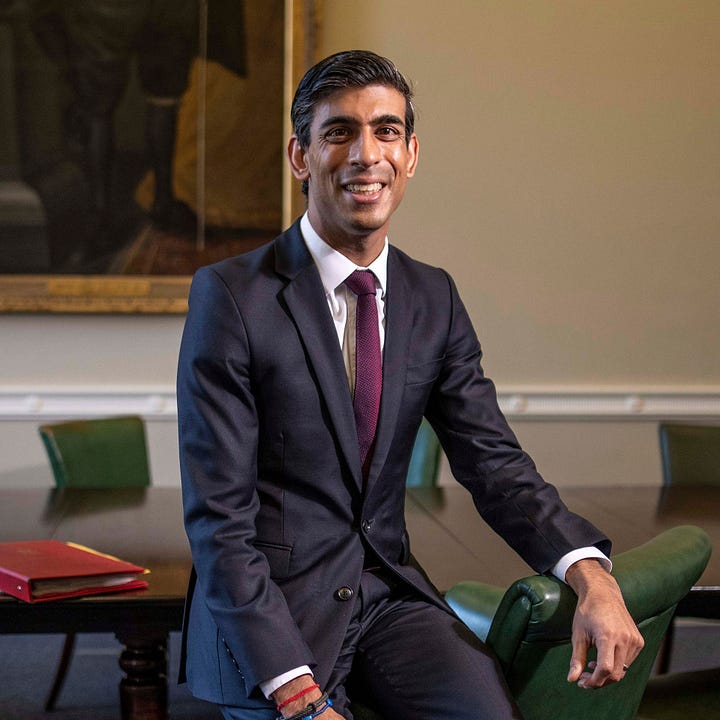 I TikTok'd, or is it motion-selfied, myself (commiserating with the average man less the iPhone) pumping gas with an econo car - oops wasn't my car. Then, in a car I promise was mine, well the British government's but what's the difference - oops got a ticket. Pop into a birthday party - got a ticket. I'm turning out to be the most fined PM in history... and a bit of a squidgy one to boot. You know, like Hugh Grant in a whole load of funerals or is it weddings? Anyway, not my funeral…
I hope…
Then an American political consultancy tried to cover up the squidge in me. Had me play my real roots. 1. Family - firmly middle class, check, owned a pharmacy. 2. Character - check, Immigrant made good (not in a little inflatable from Calais) - but Indian by way of Africa (just not Rwanda). 3. Success - check, Silicon Valley banker. Lost that race. Ha. Americans know diddly squat about the English id.
Getting on in England really meant acting like a patrician landed public school boy. Gotta fit in to succeed and never look back. Play down the smarts that got me to Stamford (we Brits don't like em too smart - just look at the Crownies), play up the public school charm act that got me a daughter of a billionaire. (Whew. One and done.) Right place. Right time. Right Rish! (Were there others?)
I'm Prime Minister without an election and why not? Noblesse Oblige (or is that a European thing - scratch that) as my predecessor proclaimed - Ah to be world king. An emperor clothed by computer services.... And I get to make the laws and I make them too ChatGPT style. Whatever I want at the time. Protests. Ugh let's pass a law criminalising those pesky protesters. Strikes. Let's pass a law banning strikes. Red tape. Let's pass a law getting rid of all those pesky little laws - you know like the ones we forgot to pass to prevent minor whoopsies like Grenfell. Like I said a bit of a mess/ass. 
And speaking of law - on the other side - introducing Sir Keir! Not the Love Actually kind. Lawman extraordinaire - Former head of the Prosecution Services cum stormzy troopers, current head of the Labour Party and a man so grey you couldn't pick him out of a line up because you would mistake him for one of the cement blocks he's standing in front of..... This is no Perry Mason. No Johnny Cochrane. The proverbial OJ Simpson glove was never even taken out of the evidence bag with Keir.
A man who eats steady for breakfast, lunch and dinner. Our very own English tortoise. Aesop would be proud. We've still got 2 years to see who wins this slomo race but time is running out for Keir to start showing off some inspiring dance moves. He's managed to bore all of the UK to paralysis so Labour has thoroughly shed the shroud of Corby, but Labour needs some new Stella MacCartney frocks to wear to the election party. Let's see what she can come up with.
When interest rates were at zero or even negative, unlike the net zero kind, ideological rule and the grey man thingy was overlooked but not sure how much longer that'll hold.
The Tories need to get a grip and find some smarter, harder working, reality (not TV) based politicians with a better sense of what's going on with 90% of the country than blame-gaming them. Not to win elections but to govern effectively. Johnson and the brexiteers proved you can win on slogans and chutzpah and guarantors but you can't govern in fantasy. Neither Corbyn's Labour version or Johnson's Tory side is a solution. So boys on both sides.. Figure it out..
Letts Journal is a reader-supported publication. To receive new posts, LOL and support our work, consider becoming a free or paid subscriber. Pretty please.
---
Keep up to date with the Letts Journal's latest news stories and updates on twitter.